Prior to Anthony Martinez's life altering decision to transition to veganism, he was struggling with drugs and alcohol which eventually led to some really bad life choices. In 1996 he found himself in a Virginia jail for dog fighting. After his arrest he struggled for many years with substance abuse and finally, in 2007, hit rock bottom.
That same year he committed to sobriety and landed a union job as an elevator operator in NYC's Bricken Arcade. It was then that he started to evaluate his health, something he had never considered until being sober. His health at this point was poor, and like most Latino men of his age, he suffered from high cholesterol, hypertension, and diabetes. The doctors added arthritis, IBS, and migraines to the mix, and his future was looking more medicated than before.
"I remember purchasing one of those pillboxes to organize all the medication they prescribed to me. I was so sad and depressed because I felt like I got clean for nothing."
The bright side to all this was Anthony was finally able to bond with his father on something. Comparing medications and talking about their shared illnesses and doctor's visits. 
Coming to America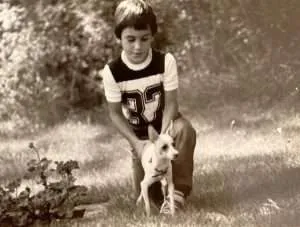 Anthony's mother and father were both hard-working parents, who moved their family to the states from Puerto Rico to give them better opportunities. His childhood was one of privilege. He attended an all-boys Jesuit school where he hung out with NYC Upper Westside latch key kids. This kept him detached from his Puerto Rican culture. 
Apart from fishing and hunting his dad didn't relate to the other fathers in the neighborhood; he had entered this world as an outsider. In his pursuit to be accepted, he bought property and a boat which opened up opportunities to spend time with the other fathers.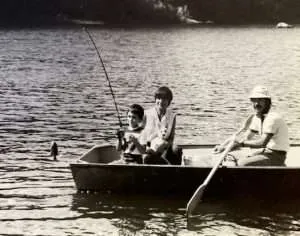 Intent on incorporating Anthony into that world, his father took him fishing. To Anthony, fishing was traumatizing. He couldn't deal with the struggle of the fish or the pain he was causing them. He would cry and as a result, was teased by his family.
"I was bullied and called soft. This was ingrained in me; and as a Latino man, you can't be soft. I remember the first time my dad took me hunting, I was shaking; I thought, how am I going to kill this sentient being that has done absolutely nothing to me? As my father's son, I had to do it, I had no choice. I had to look this deer in the eyes and shoot it. I will never ever forget that moment. I knew it was wrong, but I did it anyway because I was more afraid of my dad and my uncle. The whole ride home was gut-wrenching, 'What's wrong with you, what kind of man are you?' they said. This was my punishment for being compassionate, emotional, and sentimental about taking another sentient being's life.
So, I manned up, the next time I was going with a bow and arrow; I'm going to give that animal a fighting chance to kill me just like I have to kill them…I couldn't do it. It was traumatic, everyone bullied me. I never was invited back. The pain and suffering festered within me… and who knows what it manifested within my body. I had always been afraid of disappointing my father."
Anthony believes this was the precipice for all the choices he had made in his life. The machismo persona he carried for years was built upon the pressure of fitting in. The women, sports, dogfighting, substance abuse were all a part of a character he was playing for the outside world; including his own family.
Vulnerability – A Sobering Experience

When Anthony finally sobered up to life, he decided there had to be a better way. In his search for support and guidance, he found a local health coach – his life would change, as this man happened to be a vegan activist.
"He provided me with books and 3 rules 1) eat all the fruits, veggies, nuts, grains, legumes and seeds you can 2) adopt a spiritual practice, and most importantly 3) don't be a dick. I struggled with the whole fruits and veggies thing."
Anthony then picked up Eat To Live by Dr. Fuhrman and read it incessantly. Immediately he stopped all meds and "magically" most of his ailments disappeared.
He lost weight, felt amazing, and got his life back again.
"I was finally happy to be alive. I'd also like to add that it was so important that I had the guidance of a male figure during this time because I felt alone in this 'vegan' world. Now, I encourage men to not let this be a deterrent. You can absolutely be a 'man' and be vegan. In fact, I believe that as men we have an obligation to defend the innocent and protect the voiceless which should include our non-human brethren." 
He admitted that at the beginning of his transition he was just literally trying to save himself from health oblivion. He bounced back and forth from plant-based to animal-based diets until a friend said, "You need to meet what you're eating," so they traveled to Woodstock Sanctuary.
"I was devastated once I learned about the practices in the 'food' industry. I met so many amazing animals I just couldn't see myself eating them anymore. It was here that I said I'm done, I'm not participating in this insanity ever again."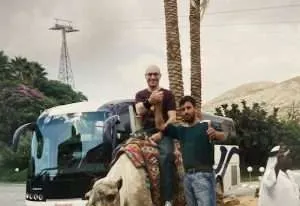 In 2008 he switched from plant-based to vegan. In 2014 he watched Cowspiracy. He had already been vegan for several years, but after watching this film realized that it wasn't enough. He started talking to people about the importance of a vegan lifestyle – joined groups and did what he could to amplify the message and its urgency.

The Student Becomes The Teacher

In 2017 Anthony became the Education Director for the NY Chilis On Wheels chapter and soon after took over another chapter in New Brunswick, N.J.
"Every weekend we were feeding the houseless and passing out information about plant-based eating."
Casa Vegana was founded in 2017 by Michelle Carrera and was a subsidiary project of Chilis On Wheels. Met with a long list of obstacles and difficulties, the Puerto Rican chapter was in danger of folding in 2019. It was at this time that Anthony decided to leave everything behind and move to Puerto Rico. There he would continue and honor Michelle's work in her absence. Not clear on what it entailed he found himself inundated with fundamentals and administrative work, but this was Puerto Rico, the place of his ancestors and the culture he had been missing his whole life.
To Lead is To Listen

In 2020, during the pandemic, Michelle decided to decentralize Chilis On Wheels, leaving all the chapters to find their own way. Anthony made the tough decision to stay in Puerto Rico and make it work.
"I was blessed to find a local team of vegan activists to work with and a local donor. I changed the focus a bit to meet the more urgent need for education in Puerto Rico. I used my journey as a model for Casa Vegana and combined the serious topics of health and the vegan lifestyle. I discovered if we don't take care of our health as vegans it can lead to our advocacy lacking compassion. We also had to shift to a more virtual model to adapt to a pandemic world. All our content is in Spanish and most events are led by locals – something that very few organizations do. We feel this is paramount, as our Spanish-speaking Caribbean population is underserved in the vegan community."
In 2020 Anthony spoke at Puerto Rico's Veganfest and was a core team member for Vegfest Puerto Rico which was canceled when Covid hit. His long-term plan is to bring more events and awareness to Puerto Rico.
Anthony acknowledges it can be very difficult for people to consider a change when they are in survival mode, especially men. One of the most compelling aspects of Anthony is his invaluable perspective on men in the animal rights movement. With his background, he has a very palpable introspect on why men are hesitant to adopt a vegan lifestyle.
"I strongly believe there is absolutely a correlation between how men are brought up and sickness. In Puerto Rico, we are missing the resources for men. People need to see male vegans as normal."
He believes men need a safe space to share and feel comfortable with vulnerability. To tell their story and express how they truly feel is their challenge. According to
Anthony, men in Puerto Rico are missing from the vegan conversation. Casa Vegana is not only providing resources for them but also making sure they are more visible and supported. He spends many days manning an educational booth where he listens. He talks to people about themselves and the vegan lifestyle. Defining veganism as not using animals for needs and desires; not an extreme notion, if your mind and heart are open. He also discusses the philosophy of not causing unnecessary harm to sentient beings. 
"I feel it's important to listen to people and see what bridge you can build with them. I don't immediately start with the vegan conversation until I have listened to them thoroughly and asked questions along the way."
He also distributes seeds and plants to try and get people in the habit of nurturing something that grows and offers sustenance. Anthony says, "It was important during my transformative process to connect to nature as she has a way to really amplify our own healing process."
One of Casa Vegana's most prized assets is their webinar series on Wednesday evenings at 7:00 PM and Sunday evenings at 6:00 PM. These webinars feature Vivian González Méndez of JUSTA P.R., a vegan animal rights attorney, and educator who practices on the island and educates students about animal rights. They also include social justice issues, emergency preparedness, activist training, book discussions, veganic farming, and Cocina Com*paz*iva, a cooking demo series. Another is an educational program on Wednesdays called Salud en Arroz y Habichuelas featuring board-certified plant-based doctors who offer a scientific explanation of a plant-based diet; the first line of defense for human ailments. According to Anthony, if you participate in these weekly webinars, you will know more about nutrition than most doctors.
They recently added a new webinar dedicated to Latino vegan men. Since their population is small, Anthony felt it imperative to invite more Latino men into the conversation. Hoping to inspire those already vegan to come together for community and show other men there is support already in place.
Casa Vegana also supports a local campaign to close the zoo on the island. They do their best to reduce the suffering of the local cats and dogs by spaying and neutering the ones they can and assisting local rescue organizations with the use of their platform. They provide field trips to the only farm animal sanctuary on the island, Horses and Ponies; which provides a great way for the population to meet animals they never get a chance to interact with.

Casa Vegana visits local farms and spends time working and listening to them. "We want to help them make the transition to plant-based," says Anthony. They also collaborate with Seed the Commons, a network of veganic farmers that helps ease the transition for other farmers who are interested. They have their own local veganic farm, Franciska Wines, who graciously provides space and time for them to talk to conventional farmers who are interested in transitioning.
Casa Vegana's present funding does not allow for massive online campaigns. They are a small but mighty organization that relies on social media and word of mouth. Although they have grown exponentially and organically over the last few years, they are determined to maintain focus on the population they serve and not be concerned with peripheral matters.
Casa Vegana supports local vegan businesses but also networks with non-vegan businesses to maintain a dialogue with those outside the vegan community.
Last but not least, Casa Vegana is collaborating with another vegan group on the island to help identify vegan restaurants, making the search that much easier. It promises to be a dynamic list, updated regularly, for anyone who wants to find local vegan fare. They will also have a section called "Eating Vegan" containing information on where to find your favorite vegan ingredients accompanied by vegan shopping excursions at local vegan shops and markets. ALL of this inspired and under the leadership of Anthony Martinez.
His Rightful Place

Anthony has made all Casa Vegana's programs intentionally free of charge, minimizing the excuses. Donations are appreciated and volunteers are needed. Anthony encourages certain skill sets to reach out – web developers, marketing gurus, social media influencers, grant writers, content creators, and other nonprofits who can guide them in their journey are all welcome. As the organization grows and becomes more financially stable, "This will help bolster some of our amazing projects that we are planning for the next few years, including increasing the capacity to provide crisis relief through meal support during natural disasters and other difficult times," says Anthony. He is working towards making Casa Vegana a plant-based hub where anyone can benefit from the world of veganism, eventually turning it into an action center where they can respond to any disaster.
The only battle that is lost is the one you don't participate in.
Anthony's advice to young activists, "Don't get stuck in the what you don't have paradigm. Concentrate on what you do have, which is a voice. Figure out what skills you have and work from there. We need more people doing this work and fewer people thinking about it. If you want to start a group that's great but it always starts with your decision to become active so I strongly encourage you to start now because the animals and the planet cannot wait any longer!"
Anthony puts a tremendous amount of thought into navigating Puerto Rico's special list of obstacles. He works to inspire people to transition but also must maintain sensitivity to locals and their specific plights. Garbage maintenance for instance is a big problem. Although they now have access to great plant-based products from the mainland, the packaging puts a major strain on an already broken infrastructure. These products are also not cheap, so Casa Vegana does quite a bit of work promoting whole food plant-based meals. Many Puerto Ricans work several jobs to make ends meet and they just don't have the time for lengthy meal prep. It's a puzzle and not an easy task.
They use education as the basis for all they do and it's done in Spanish, with local help connecting to the people, this is vital. 
In Closing
"Puerto Rico is a beautiful archipelago with magical places and beautiful people, rich in culture. It is a tremendous honor to be acknowledged for the work that Casa Vegana does during this month. Hispanic heritage means a lot to me personally and more so now that I am on the island and experiencing my culture firsthand. This is a learning experience for me. I am very proud to be Puerto Rican but like most cultures, our practices are based on animal exploitation. For a civilization to evolve we need to look at our current models and see if they serve us as well as the other sentient beings we share this planet with. If it doesn't then we have to revise them to include the philosophy of no harm. We know from the work of those that came before us that we can practice veganism and be immersed in our Hispanic heritage. Many have veganized traditional plates in most if not all Latin American countries. It's important to do your research and empower yourself.

I would like to take the time now to use my platform to mention some resources here on the island. El Jangueo Vegano Facebook group, Veganizalo.com, Mindful Grub, Kaitibisi, Meditating Mango, Mindful Dietician, MuchoGustoPR, MamahippiePR all on IG, Center for Nutrition Studies (Spanish version), Francis Alvarez, Vegfest Puerto Rico, Vinculo Animal  PR, Pro Bono ONDA,  and of course my team Selena Nadal and Enrique Velez. As we grow, we believe we will be able to help make a significant impact and are appreciative of the help and support of Maggie Sargent and FARMPR and so many others in the community who are helping spread the word!"
Casa Vegana's Facebook is full of information and houses its webinars. It also has an Instagram and a Youtube channel. All under Casa Vegana de la Comunidad. They also have a local Whatsapp group for their events that you can join using a link on their Facebook page. Their website will soon be up and running as well at www.casaveganapr.org. Contact Anthony at [email protected]. They would love to hear from you!
FARM Puerto Rico is a program of Farm Animal Rights Movement (FARM), a US national nonprofit organization advocating for animal rights and veganism since 1976. In June 2021, FARM expanded its programs into Puerto Rico with the goal of educating more people about the plight of farmed animals and expanding awareness on the island about the benefits of a vegan diet. FARM PR produces and disseminates Spanish language videos and written content, produces events, and supports local vegan businesses, activists, and organizations. For more information visit farmpr.org or find us on social media under llegofarm.