Founded in 2012 by Omri Paz, Vegan Friendly was designed to highlight vegan-friendly businesses in Israel, making veganism more accessible for those who choose to make the transition or want to experience veganism.
I met with Omri Paz from his brand new office in New York City to discuss his recent expansion into the United States, the animal rights movement, and how his super successful organization is serving the vegan communities around the world.
How was veganism introduced to you?

At the age of 29, after eating meat all of my life, I came across the YouTube video titled "Best Speech You Will Ever Hear," by Gary Yourofsky. His lecture talked about factory farming, and I became vegan that same day.
Did you have any vegan family members or friends to inspire and support you?

After I became vegan, all of my family members became vegan as well. My dad is vegetarian, but for him, it's a big achievement. My best friend still eats meat but very seldom. Luckily for me, I am surrounded by mostly vegans, so I have a very supportive environment.
What was the animal rights movement like when you decided to adopt a vegan lifestyle?
When I started (2012), the vegan movement in Israel had just begun. There were fewer than one percent vegans, no vegan restaurants, and almost no vegan options in the supermarket. It was honestly difficult being vegan in those days.
Had you any previous experience establishing a vegan non-profit?

Honestly, I didn't have any relevant experience in establishing a vegan non-profit. I was a law student at the time. I had no experience in graphic design, marketing, sales, social media, or technology. I had no connections or resources. I was motivated by the graphic videos that I saw and decided to dedicate my life to get to a vegan world. The knowledge that factory farming is the biggest injustice in history and that I believe I can create an impact as an individual was my motivation.
Did you have help, and who was there to support you?

Honestly, during the first three or four years, I didn't have any help from anyone besides my girlfriend at the time who was very supportive. My family (mostly my mom) was also helpful at the beginning.
What is an average day for you?

I wake up at 7:30, read the newspaper, work out for 20 minutes, and take a shower. I go to the office with my dog. We walk by the park, which is majestic. At the office, I usually spend my time in meetings and planning projects or executing projects. I typically finish work around 8 pm and walk back home with my dog.
With so many people trying to make their mark on society, what do you attribute your success to?

Hard work and doing what I believe is right, striving to learn new things and improving myself just a little bit more every day.
What do you believe is the reason for Israel's large vegan population?
The Gary Yourofsky speech started the vegan boom in Israel in 2012, but since then, we have had big success due to the hard work of activists and vegan nonprofit organizations. Since we are a small country, it's easier to have a message spread fast through the population. Also, the diet here is relatively vegan since it's a Mediterranean diet.

How can the United States learn from Israel's vegan population increase?

Do not be afraid to invest in dietary change. Most of the activism in the States is welfare focused.
In your opinion, how will the world's vegan population reach critical mass?
By working on making veganism accessible and by raising awareness. Obviously, food tech companies and cultivated products will help tremendously.
Can you describe 3 major benchmarks in your story that are responsible for where you are today?
Watching the Gary Yourofsky speech. This was the first time I was exposed to this subject. I made a strong physical connection to the dairy industry video. Seeing that really got me.

Doing many large-scale events made me professional in what I do.

Creating the 3-step model to make Vegan Friendly self-sustainable in countries we operate in.
What is your 3-Step Model?
First, we create a community through social media, our app, and the website. Second, we approach vegan friendly or close to vegan-friendly businesses in the area to be more vegan-friendly. This is done by adding more vegan options, making their workplaces more accessible, as well as labeling your products. Lastly, after the relationships are established, we work with them to create benefits and customer discounts for their customer base.

When a person joins our organization with a monthly donation they receive those benefits. The recurring donations pay for our campaigns which we launch every couple of months. We also offer a team of consultants to show businesses how to become more vegan-friendly and suggest resource options they can use to acquire vegan products.
How do you convince businesses to join your program?

We solicit all types of businesses, not only restaurants. We work with hotels, clothing stores, wedding halls, etc.
By doing annual surveys…using platforms like Survey Monkey, our experts create questionnaires that have attracted upwards of 50,000 participants in one month. Participants enter to win prizes by answering the questions. We then use this data to benefit the businesses we work with.
Who does Vegan Friendly consist of?
Our organization is made up of 52 full-time employees – 40 people in Israel, 7 people in the UK, and now 5 people in the U.S. We also have hundreds of volunteers. Our volunteers are great, but you can't rely on them in the long run. You need full-time staff. You want people to have one main thing to focus on in their job.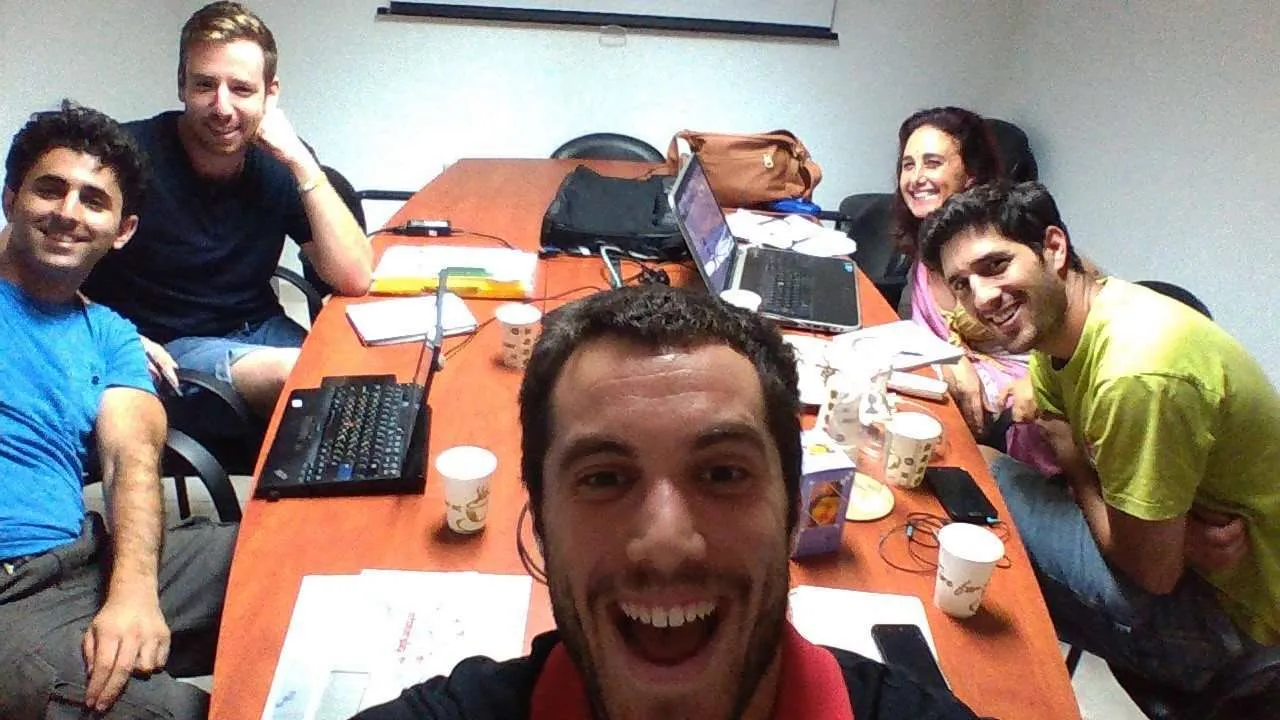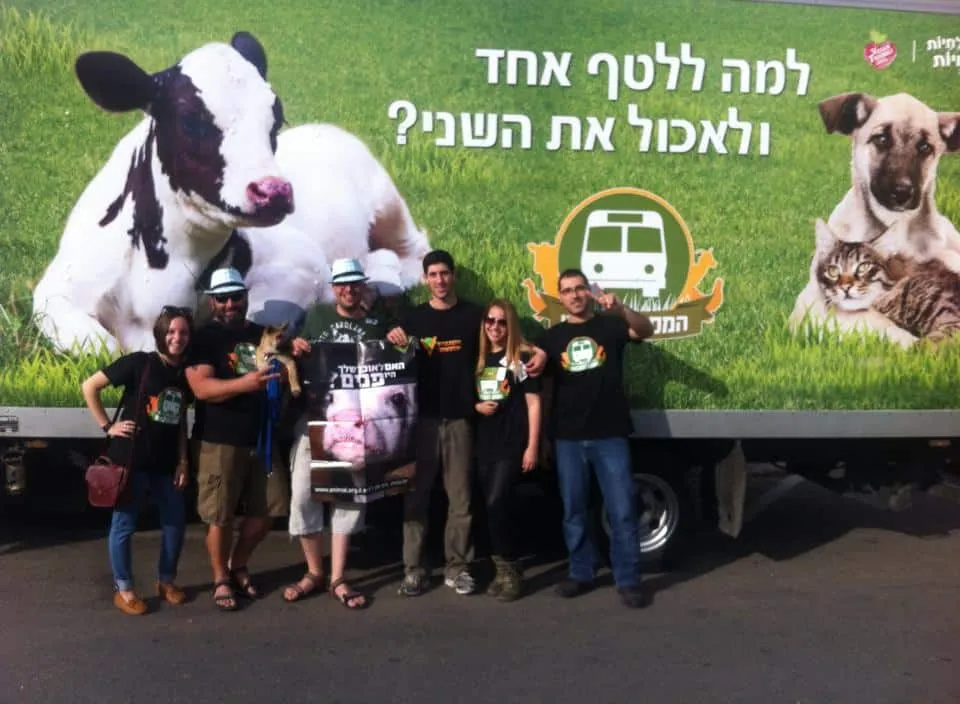 How is Vegan Friendly different from other organizations?
One of the impressive things about Vegan Friendly is we are innovative. We focus on things that have never been done and question the status quo. We have produced giant billboards, a first-of-its-kind Virtual Reality project, and our Independence Campaign. We are also responsible for the largest animal rights march ever in history, and we produced the groundbreaking Extra Fresh Ad which aired during Survivor's finale in 2020 on primetime TV. That was the first time a vegan advertisement aired on TV during primetime, reaching millions of people.
We are also the main sponsor for the best basketball team in Israel.
Team Hapoel Tel Aviv wears the Vegan Friendly logo on their jerseys along with the caption, 'Give It A Shot.' Their home stadium Heichal Shlomo has a gigantic sticker that covers a large part of the playing court that says 'Go Vegan.' This has never been done before.

Two years ago during a previous interview, you said the United States was too big of a market to expand into, now that you have launched Vegan Friendly in NYC what has changed?
Lots of things…we are more mature with more experience, and we have doubled in size. In addition to doing our research by talking to activists, businesses and other organizations, we now have a bigger team; originally we had 20 employees, we now have 52.
But the main thing that has changed is we did a baby step towards the U.S. from Israel by launching in the UK. We went from 10 million to 60 million. That's a baby step towards the U.S. which has approximately 350 million. To see our model work in another country like the UK so quickly was really important to see if we could be successful in a bigger country.
All these things gave us the confidence to enter the United States. We believe that people are waiting for something like Vegan Friendly.
When was the official US launch?

The official launch in the United States was the first week of December 2022.
We didn't host an event so as not to distract our staff's attention from the launch itself. We announced it on social media and on our website. Vegan Friendly is hitting a sweet spot.
The launch consisted of a couple of things: 
For the last five months, we have screened all the relevant NYC vegan places on Happy Cow and Google, which is about 50,000 businesses. 

We checked each one and shortened the list to about 15,000 and uploaded them to our Vegan Friendly app and website.

We have now started to connect with over 20 businesses to be vegan certified.
Will you be competing with Happy Cow?
It will be similar, but we are not only focusing on restaurants. We are including the total vegan lifestyle – hotels, clothing stores, a dating app eventually. As a vegan you will have everything that is relevant to you.
What exactly are you doing in New York City?
Right now, as we speak, we are sitting in our new New York City office. This is our first branch in the U.S. Hopefully in six-to-nine months we will be in Los Angeles with our second branch, probably in May of 2023.
How many cities are in your sites for 2023?
Hundreds of cities.
How does your work in Israel compare to other countries like the U.S.?
I think the United States has bigger potential. Hopefully we will surpass Israel in a couple of years and expand worldwide.

What does veganism mean to you personally?
It's something I am dedicating my life to promoting. Without veganism we won't have a planet. 
What advice do you have for young activists just getting started in the movement?

Stay focused and work hard, and always remember why you are doing what you are doing.
Any advice for activists who have been in the movement and are feeling frustrated and experiencing burnout?

I think that burnout appears mostly when you feel that there isn't progress. If someone experiences lots of success, it's easier for him/her to continue. I always advise to assess if what you are doing is effective, and if you feel that for too long it hasn't been working, maybe it's time to try something else. 
Thank you, Omri, for taking the time out of your really busy schedule to chat with us! We look forward to your continued success and expansion. We appreciate you and all you are doing for the vegan community and the animals.
Follow Omri Paz on Instagram and Facebook

Vegan Friendly on Facebook
Vegan Friendly United States
Vegan Friendly Israel 
Vegan Friendly United Kingdom
Vegan Friendly on Instagram
Vegan Friendly United States
Vegan Friendly United Kingdom
Vegan Friendly Israel 
Vegan Friendly on Twitter
Vegan Friendly Israel
Vegan Friendly United States & United Kingdom

If you are a business interested in getting certified or a patron looking for vegan friendly companies, you can also visit the Vegan Friendly Worldwide website for up-to-date information on all things vegan in Israel, the United Kingdom and now the United States.