In 2013, husband and wife team Peter Nussbaum and Gabrielle Stubbert adopted Yuri and Jupiter, two 2-year-old Roosters, and Tamerlaine Sanctuary was founded. Peter explains, "Within a week, they were taking their meals in our kitchen with our two dogs. The four of them became fast friends. They were no different than our dogs – friendly, smart, adorable, funny. We were smitten and had to share this awakening with others."
At that time Tamerlaine was Peter and Gabrielle's home away from home, a 40-acre property they had purchased as a New York City getaway. Needless to say, it wasn't long before their home was a sanctuary to almost 100 animals. 
A Rich History

Gabrielle and Peter met at a concert in 1995. Gabrielle's roommate was the band's manager and Peter was the attorney for the band's label. A post show dinner party had Gabrielle and Peter seated next to one another. They have been together ever since.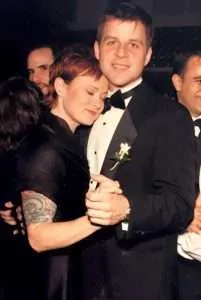 Peter, a very accomplished intellectual property attorney, was a self-professed carnivore. His sister had been vegan since the '80s, so he was no stranger to the lifestyle. Gabrielle, with a background in event planning and catering, on the other hand, had been a vegetarian for several years. The two frequented vegan restaurants together and had many vegan and animal rights friends and associates.
In 2010 Peter attended a charity event in New York City. Celebrity chefs were lined up at each station featuring their signature meat dishes and top shelf whisky. 
He, along with his colleagues were, in his words, "elbowing each other to get to the meat." The event's debauchery would prove to be a turning point in Peter's awakening. During what felt like a feeding frenzy, Peter experienced a witness consciousness moment. He was completely taken aback by the gluttony and voracious behavior of himself and the other guests. He left that night feeling sick, and his subway ride home was a perfect storm of physical, emotional and spiritual dis-ease. He vowed at that moment to go vegan the very next morning. When he arrived home, he immediately shared his expeditious decision with Gabrielle.
"I was grossed out. When I wake up tomorrow morning, I am vegan. I am fucking done!"

Although initially met with skepticism by Gabrielle, the two woke up the next morning as vegans and have never looked back.
Growing Pains

In 2018, thanks to the generosity of a foundation who assisted with the purchase price, Tamerlaine Sanctuary expanded by adding an additional 336 acres and one lucky resident named Toy, a 32-year old Morgan mare who came with the property. Now, not only did Peter and Gabrielle have a new member to join their growing family, they had now acquired enough property to take in many more animals. 
This new location features a farmhouse that was originally built in 1774 and played an historic role in the underground railroad. Many years later, this location's second owner transformed it into a beautiful winery and event space, and as of 2018 it has become the official home of Tamerlaine Sanctuary and Preserve.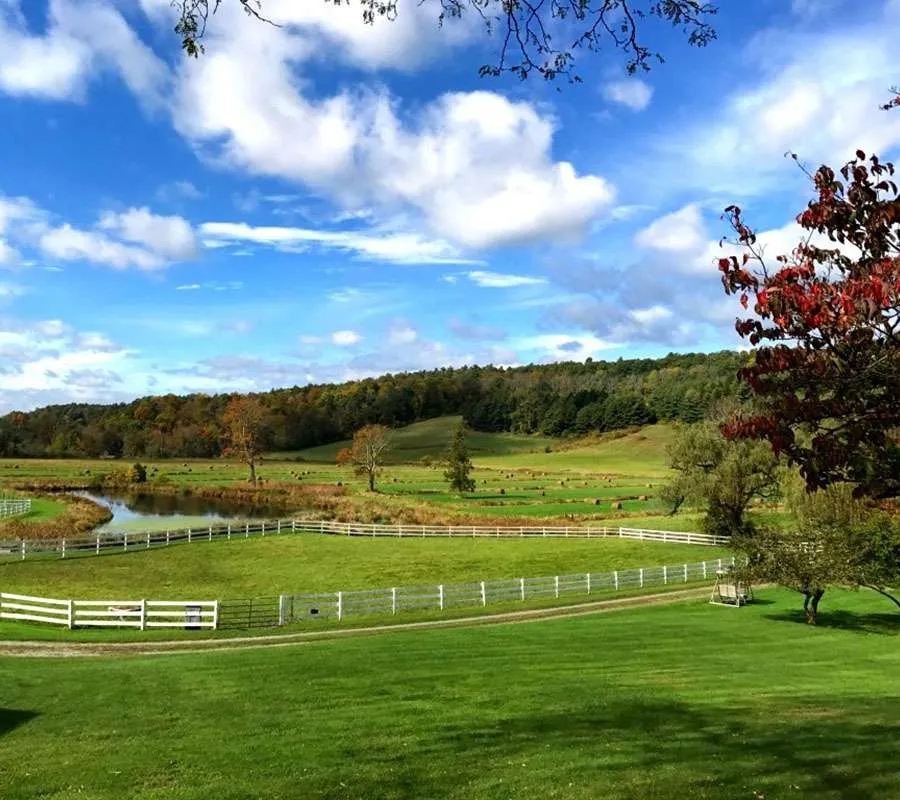 With rolling fields, wetlands, ponds, and forests, it is the perfect location for their ever-growing family, providing the perfect layout for the animals to live a peaceful life. Located in Montague, New Jersey., 90-minutes from New York City with access to multiple avenues of transportation; their brilliant business model manifested quickly. 
The sanctuary and preserve has also become the perfect location for country farmhouse style events – weddings, galas, festivals, concerts, birthday celebrations and more. The space is equipped with a plant-based catering facility that serves fine vegan cuisine – all events take place far enough away so as not to disturb the animal residents. The beautiful property and natural landscaping also offer a gorgeous backdrop for a memorable photo shoot. Whether you are celebrating that special day or enjoying delicious food and drink with 100 of your best friends and colleagues, Tamerlaine should be on your event's location checklist.
The original 40-acre property remains as Peter and Gabrielle's home along with their two dogs, Tonka and Lola, two cats, Chloe and Kimchi, and Dottie the rooster.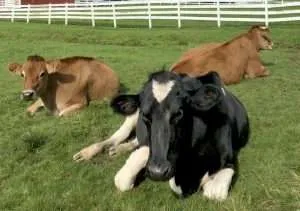 Among the now 250+ animals that reside at Tamerlaine, the arrival of their first three residents to the new property was the most memorable. One year old cows, Diego, Fred, and Ferdinand,  rescued from the dairy industry, were brought to their forever home shortly after Tamerlaine's expansion.
On the farm, every day brings something different – there are new rescues, unexpected weather, and unique tour experiences. The one constant is the animals and the care that they most deservingly receive every day. Farm staff spend their days feeding, watering, cleaning, caring for, health checking and enriching the lives of the animal residents at the sanctuary, making sure that each and every one of them are living their absolute best lives.   
In addition to the farm staff, Peter and Gabrielle have a team of amazing people who assist with many of the other aspects of what it takes to run a 336-acre sanctuary, preserve, and event venue.
There is the team that tends to the daily operation of the farm as well as a top-notch management staff composed of a farm manager, office manager, fundraising manager, and humane education coordinator.
You would think with all this help that Peter and Gabrielle would be kicking up their heels and relaxing, but nothing could be further from the truth. Operating the sanctuary is Gabrielle's full time "volunteer" job and Peter's second full time "volunteer" job. The couple have even depleted their own savings to float the sanctuary.
Experience is the Best Teacher

When I asked Peter and Gabrielle what words of wisdom they had for others wishing to open a sanctuary, this was their response:
"First and foremost – self funding. We were fortunate to have amassed a modest life savings that enabled us to keep the sanctuary afloat, together with the incredible support that we have received from friends, family, visitors, social media followers, work colleagues, and foundations. The best advice we can give to others who would like to start a sanctuary is: do not take on more than you can personally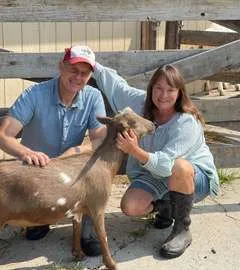 financially handle and do not give up your day job. If you do not have enough money in reserve to cover multiple years of expenses you should think twice about starting a sanctuary. 
It takes time and hard work to develop a donor base and the process can be very unpredictable. Our goal is simply to get to a place where we are no longer donating our own depleted savings towards the sanctuary, but we will never rely on the sanctuary to support us. We never have and will never take any sort of salary or compensation. Be prepared to work very hard, spend your life savings and give up all your other hobbies and activities."  
"The tradeoff

: if done right, you will likely feel more fulfilled and rewarded than ever before in your life."

Tamerlaine's residents arrive at the sanctuary in many ways and from many different places.
During the winter of 2016, a western Massachusetts farm was shut down by local law enforcement. The ASPCA called it the worst case of animal abuse in the history of New England. Twenty-one goats were removed, and they were so sick they had to be triaged for a period of time. The ASPCA called on Tamerlaine. Peter and Gabrielle answered the call and had all the goats transported to their sanctuary. Immediately warm and comfortable stalls were created for all of them.
Although they were told that none of the goats were pregnant, shortly after their arrival one of the goats gave birth to two kids. For the mother to properly care for them Tamerlaine prepared a special nursing stall. The affectionate disposition of the mother immediately changed after the birth. Having had all her offspring ripped from her in the past, she was conditioned to believe this is what would happen again. For over a week she was
understandably aggressive towards the staff. Convinced that her family was in harm's way once again; her eyes constantly on anyone who entered the stall, ready to attack and protect her family. It was heartbreaking. 
On the eighth day Peter approached the family needing to clean the stall. The mother slowly walked up to Peter and gently pressed her head against him, gazing into his eyes. She then slowly turned her head towards her babies and then returned her eyes back on him.
"It was so clear to me what was happening, she was saying thank you, I trust you. We told her that her babies would be with her for the rest of her life, and we kept our promise." ~ Peter
Fast forward five years later, although the mother and kids live with 30 other goats, every night, both the mother, Momma Rose and father, Jasper cuddle with their two children, Mirabelle and Pablo. This speaks volumes about the true sentience of animals.
In February 2019, a local resident about 20 minutes away from the sanctuary decided to try his hand at Berkshire pig farming, and without any experience purchased a Berkshire pig. The pig gave birth soon thereafter to a large litter of piglets. This man, not knowing sows need a warm enclosure to nurture their piglets in, kept them in an area with no heat or protection; with the exception of three, all the piglets died. Through a mutual acquaintance, Tamerlaine was contacted to take in the 3 surviving piglets.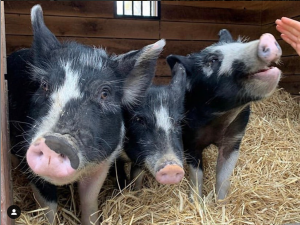 Because the piglets needed round-the-clock care, Peter and Gabrielle took them into their home, bottle feeding them 24 hours a day. One of the piglets had an infected abscess on her leg, requiring additional care.
Fast forward two years later Roman, Magnus and Bella are all about 500 lbs. each. Tamerlaine is the forever home they deserve, and they interact with all the staff exactly the same as dogs. "There is really no difference," says Peter.
Tamerlaine has offered triage to thousands of rescued Cornish Cross birds. In 2014 they partnered with The Alliance to End Chickens as Kaporos, to stop the horrific ritualistic slaughter that takes place every single year, for an entire week before Yom Kippur, right on the streets of New York. Gabrielle explains the work as grueling and heart-wrenching. Most of the rescues take place in the evening when they have prepared for the intake of birds with wings hanging off their bodies due to having been swung over a person's head by their wings while a prayer is recited. They are without care for days, waiting to be sacrificed and suffer from hypothermia or heat exhaustion. They arrive starving, dehydrated, with broken toes, compound fractures in their wings…and all are absolutely terrified. The birds are then sorted into groups based on the urgency of their needs. They are fed and fluids are administered. Toes are splinted, compound fractures are cleaned and stabilized, and many sickly birds are treated with antibiotics until they can be brought to the vet the next morning.
"To see first-hand how these sentient beings are treated as objects—just broken and disposed of—offers a devastating depiction of humanity. Society has overwhelmingly conditioned people to view animals in the food chain as "less than" and unworthy of love. But the reality is that we do have the capacity to love all beings; we're born with empathy, and anyone can return to such a compassionate state, if just given a chance to meet farmed animals as individuals." ~ Gabrielle
In Gabrielle's Words

"While all our rescues have a profound effect on us, some hit incredibly hard. The animals that come to us from the New York City slaughterhouses are among those rescues. It's a little-known fact that there are between 80 and 100 "live kill" or "wet" markets in New York City. Of course, these are found in underprivileged communities, where residents' voices of complaint go unanswered. And they do object: several of the wet markets are very close to schools. Children walk over filthy sidewalks, possibly carrying dangerous, zoonotic germs into classrooms.
That's not hyperbole. The animals that come from these markets are the most-diseased animals we have ever seen. One rescue in particular haunts me—our little goat, Sheldon. Animal activists often hold vigils at markets to offer some love and comfort to animals in their last moments before they are killed. This is an incredibly brave form of advocacy, as the animals in these places are always so terrified. There is no effort made to distance them from the slaughter table, so they have usually witnessed their friends and family members brutally killed all day long. But Sheldon stuck out for his unusual behavior. He was very friendly and approached all the activists for cuddles and kisses—actual kisses! When asked why he was so friendly, a worker at the slaughterhouse said that he must have been somebody's pet. We hear about this happening in other countries, but it happens here, too. The idea of a once-loved pet winding up in such a place…it's difficult to stomach.
The activists made it their mission to get him released. They informed the manager of the slaughterhouse that, if Sheldon were not released to them, they would be back every day to picket his wet market, armed with the information that a pet was inside. In an act of self-preservation, he relinquished Sheldon. But Sheldon had a friend. As he was being taken away, he kept turning back and seemed to pause. Activists could hear a goat screaming from the direction in which Sheldon kept looking. They saw a tiny, spotted goat named Pinky, and knew they couldn't leave this terrified baby behind. Both were brought to Tamerlaine. Today, they are still living together, and still very obviously 'BFFs' despite the size of their herd. It took a month for Pinky to recover from his life of neglect. He was so sick when he arrived, and Sheldon stayed by his side the entire time. It took another year for Pinky to leave Sheldon's side and learn to trust humans. But he is finally confident and gets more independent every day. It's a gift and an honor to be a part of that transformation." ~ Gabrielle
In Closing

Tamerlaine assesses every rescue situation individually and attempts to assist everyone. Whether or not they take the animals themselves, they will always arrange placement…at Tamerlaine or elsewhere. 
Their Big Picture approach to animal rights and the industrial agriculture community consists of hard work, critical thinking, compassion, and a hopeful long-term vision.
Because they are in quite a rural area, their farming neighbors are considered friends and allies.  They treat them with respect and recognize that they are not their enemies – even those who are involved in animal agriculture. They routinely invite neighbors and members of their local community to events at the sanctuary and go out of their way to make them always feel welcome. 
"Who would we call when it's 3:00 in the morning and we have an animal emergency? We would call our neighboring farmers, who not only answer the call but rush over to help. This is why we respect those individuals and relationships." ~ Peter
While the AR community is extremely important to them, most of their visitors arrive as non-vegans. Tamerlaine offers tours and a comprehensive humane education program. Although the sanctuary serves as a peaceful haven for the AR community to recharge and experience the joyous and rich lives of the resident animals, providing humane education only to vegans would be missing the boat. Introducing non-vegans to the animals at Tamerlaine is the sanctuary's cash cow, pun intended. Countless visitors are able to see farmed animals in a completely different light for the first time. Their humane education tours, social media content, and other outreach are all designed to be non-judgmental while simultaneously portraying the honest and horrible plight of exploited and oppressed animals.

"We are hopeful that the movement as a whole will work together to embrace this moment in time and show people that a world that is compassionate and just towards animals is so much better for the animals, the planet and for humanity." ~ Peter 
Tamerlaine's biggest annual events are Flocktoberfest and their Summer Gala. Both feature delicious and innovative vegan food and beverage as guests enjoy live music against a glorious backdrop of nature and wonder. 
Tamerlaine takes their connection to the outside world very seriously. They conduct public tours on the weekends and private tours throughout the week. There are buses and trains that depart from New York City that stop five minutes from the sanctuary – or by car, a 90-minute road trip from New York. They maintain a robust social media presence, an entertaining and informative website, virtual sanctuary tours, tabling at vegfests and other types of festivals and farmers markets. You can catch their award-winning hot sauce at many local markets and on the website – each flavor is named after one of the rescued animals, and their rescue stories are on the bottles. 
Tamerlaine can be reached by phone, email, social media, or through their website, and if you would like to pitch in and spend some time with Toy, Diego, Bella, Sheldon, Tomo, Juniper, Pinky and the rest of the gang, they have a volunteer program. Apply Here
Would you like to learn how you can support Tamerlaine Sanctuary and Preserve? Yes, please